El juego de Koji Igarashi resulto ser el éxito que el esperaba, resultando ser uno de los pocos sucesores espirituales exitosos de la ultima décadaolvidando el fracaso y estafa que fue mighty no.9.
Pero ¿que es Bloodstained Ritual of the Night?
Es un Metroidvania creado por ARTPLAY y Distribuida por 505 GAMES, es un juego que fue financiado através de kickstarte con una meta de 500.000 dolares, pero rompió su propia meta !alcanzado mas de 5.000.000 Dolares!, y así se puso en marcha uno de los grandes juegos indies que actualmente disponible.
Esta aventura comienza con Miriam que tiene una maldición de poder controlar magia demoníaca pero ira acortando su vida, lastimosamente nuestra protagonista que acaba de despertar luego de estar en un sueño profundo de 10 largos años, al despertar se entera que su mejor amigo Gebel acaba de invocar espíritus malignos que invadirán la tierra y ocasionaran el fin del mundo si no es detenido, entonces Miriam junto a su amigo johannes tendrán que detener Gebel y detener a los espiritus malignos de invadir este mundo.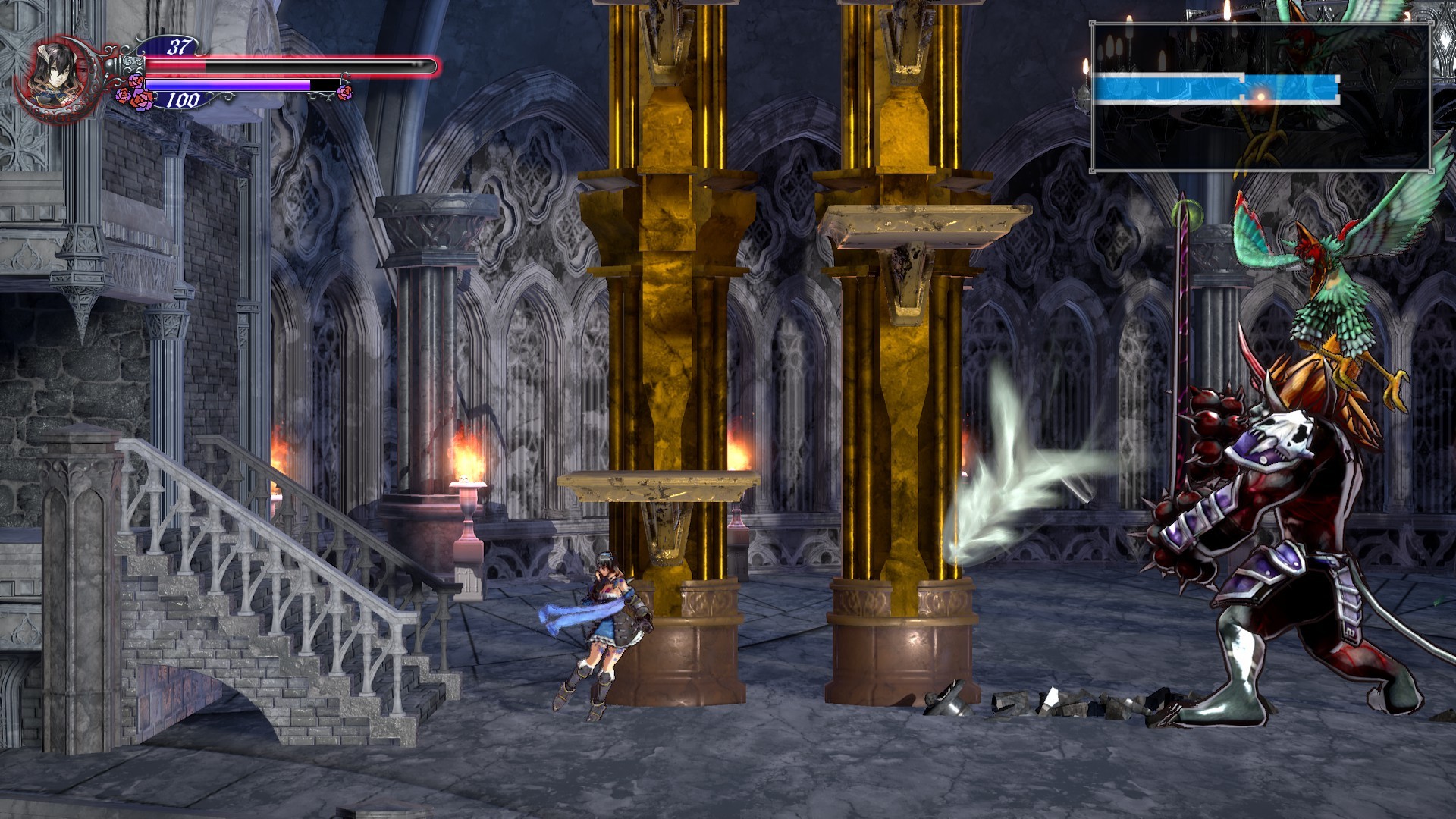 Contaremos en nuestra aventura un montón de Armas únicas y Combos que servirán para desbloquear los poderes de dichas armas, Cambien contaremos con la mecánica importante que cuenta este juego, con los famosos LIGFRAMENTOS, que son fragmentos demoníacos que liberan los espíritus malignos que nosotros destruimos en el camino, con esos LIGFRAGMENTOS podremos utilizar los poderes de dichos seres a nuestro favor a cambio de PM (Punto de Mana).
Aun que no estaremos solo en esta aventura, tendremos a Johannes un alquimista y Dominique una monja que nos ayudara a lo largo del camino, El Alquimista Johannes nos ayudara a mejorar nuestros LIGFRAGMENTOS y HACER COMIDA o DESMANTELAR LAS ARMAS que ya no necesitemos, y la monja Dominique sera la tienda del juego, donde podremos obtener las Pociones de Vida y Materiales para fabricar comida o armas.
Algo que recalcar es la música, que estuvo a cargo de
IPPO YAMADA de hacer la canciones de este gran juego, lo conocerás si jugaste la saga Megaman Zero y la saga clásica apartir de Megaman 7 a 10 y mucha mas producciones a echo a lo largo de su carrera.
Si a ti te gusta Castlevania y quieres recordar viejos tiempos, este juego es totalmente recomendable, y si quieres iniciar en este terreno de juegos estilo metroidvania es este tu momento de probarlo con este juego.
Bloodstained Ritual of the Night esta disponible para PS4, XBOX ONE, NINTENDO SWITCH Y PC por steam.|